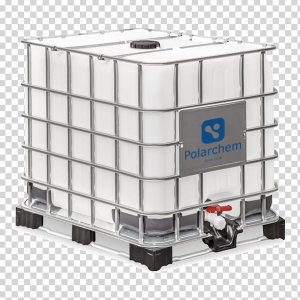 POLARCHEM L2K BROCHURE
FIRESIDE CLEANING, CORROSION PROTECTION
AND EMISSION CONTROL
OF BOILERS AND FURNACES DURING OPERATION
Polarchem International Ltd. UK, is a company manufacturing a range of speciality chemicals. It has 45 years of manufacturing and marketing experience in speciality chemicals to address fouling and corroslon related issues in boilers and furnaces.The company has a strong R&D facility and a worldwide network for distribution of products and services.
POLARCHEM L2K :
Polarchem L2K is an aqueous solution of Magnesium and Ammonium Nitrates. lt is designed for use in boilers and furnaces to reduce fouling and corrosion on the fireside heat transfer surfaces. A very important feature of the product and the system is that it allows application on-line i.e. when the boiler or furnace is in operation, without shutdown.
BENEFITS WITH THE USE OF POLARCHEM L2K:
Clean up the deposits already formed on heat transfer surfaces by one time high dosage application.
Prevents formation and accumulation of the deposits on heat transfer surfaces by regular periodical use.
Reduces particulate matter emission and acid smutting.
CAUSES FOR FIRESIDE FOULING OF HEAT TRANSFER SURFACES:
CARBONACEOUS DEPOSITS
Either with coal or with heavy residual oil as fuel, some degree of incomplete combustion is inevitable which leads to formation of carbon deposits on heat transfer surfaces.
ln the combustion chamber, the fuel, although in fine particle form (liquid droplet or powder), is inslantaneously exposed to high temperatures without adequate air. This leads to thermal cracking of the fuel, which may take place, in vapour phase or liquid/solid phase.
Vapour phase cracking forms relatively softer carbonaceous deposits like soot.
Cracking in liquid/solid phase leads to formation of more sticky carbonaceous deposits. These adhere to the heat transfer surfaces especially in the sections of flow constrictions, such as the finned or studded tubes in convection banks on super heaters and economizers. Some of these deposits also rapidly cause fouling of air pre heaters and choke the baskets.
The sticky carbonaceous deposits also tend to bind or hold together other solid combustion residues including ash.
may fall below its dew point leading to corrosion. Typically this could happen in pockets where there may be a leak of cold air.
Also whenever a shutdown is taken, exhaust gases would be cooled below the dew point with the possibility of acid corrosion.
The problem of sulphuric acid corrosion is of greater concern with high sulphur fuels.
HIGH TEMPERATURE CORROSION DUE TO LOW MELTING POINT ASH :
The deposits of low melting point ash form a hard insulating coating on the heat transfer surfaces. Over a period of time these lead to hot spots, a very high rise in the tube surface temperature with the possibility of tube puncture.
CORROSION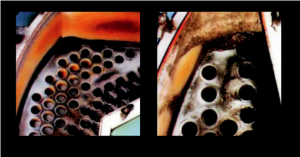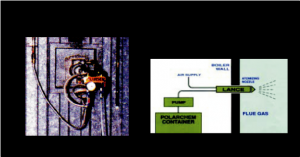 SUMMARY OF ISSUES TO BE ADDRESSED :
Minimize the formation of carbon deposits.
Minimize the formation of low melting point ash deposits.
Minimize acid corrosion.
SOLUTION WITH THE USE OF POLARCHEM L2K
Polarchem L2K is an aqueous solution of Magnesium and Ammonium Nitrates with a homogenizer, inhibitors and pH stabilizers.
APPLICATION/CHEMISTRY
Polarchem L2K is diluted with normal tap water at a ratio varying from 30:70
Based on the same reactions as above, the carbonaceous deposits are gradually oxidized and removed; the ash deposits are gradually converted into the magnesium derivatives which flake off as power.
lt a paticular section alone is badly fouled, it is possible to inject Polarchem a little upstream, provided the flue gas temperature at the point of injection is high enough to achieve rapid decomposition of the nitrates (about 400 to 5000 C).
CORROSION PREVENTION BEFORE SHUTDOWN
lt is always desirable to provide the protection of MgO to the heat transfer surfaces and to neutralise the inevitable formation of sulphuric acid when a boiler or furnace is shutdown.
It is recommended that certain quantities of Polarchem L2K should be injected prior to shout to prevent acid corrosion quantities to be recommended by Polarchem technician based on the size and condition of boilers.
This use also eases the cleaning of the heat transfer surfaces during shutdown with the deposits flaking off readily.

SUMMARY OF BENEFITS WITH POLARCHEM L2K
REDUCED FOULING OF HEAT TRANSFER SURFACES
– Higher efficiency
– Higher capacity utilization
– Higher Yield
This is directly demonstrated by reduction in flue gas temperature, either at the exhaust or after the section which is fouled and treated with Polarchem.
These sticky deposits being strongly adherent are not easy to remove by soot blowing.
DEPOSITS OF LOW MELTING POINT ASH CONSTITUENTS:
Coal contains a high percentage of complex metallic constituents which, in the process of combustion leave behind ash. Although the composition of the ash would vary with the source of coal, some ash components which have a low melting point fuse and form hard deposits on heat transfer surfaces.
Residual fuel oil contains only traces of metals. However, some of these, especially sodium and vanadium, lead to formation of low melting point ash components – sodium vanadate, sodium sulphate, vanadium sulphate etc.
These components also fuse on heat transfer surfaces causing hard deposits.
DEPOSITS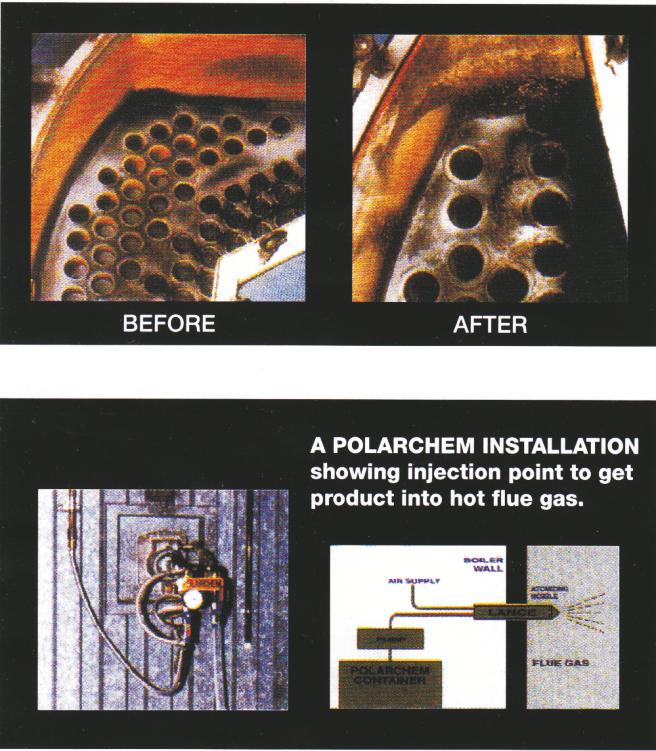 CORROSION:
SULPHURIC ACID CORROSION.
On combustion, the sulphur, in the fuel gets converted to SO2, Vanadium is converted to Vanadium Pentoxide (V205), V205 acts as a catalyst to convert SO2 to SO3. SO3 in the presence of moisture is converted to Sulphuric acid (H2SO4). H2SO4 is highly corrosive.
As long as the flue gas temperature is maintained above its dew point, moisture condensation does not take place and corrosion due to acid formation may not occur.
However, the temperature profile of the flue gas is not absolutely uniform. Therefore there is at times the possibility of pockets where the flue gas temperature
The aqueous solution of Polarchem L2K is sprayed with compressed air (5 kg per cm2) with lances directly into the hot flue gas in the combustion zone. Immediately the water evaporates and the Magnesium / Ammonium Nitrates decompose to form MgO & NO2/N2O and H2O.
On account of the very fine spray the particle size of MgO generated is typically 20 times smaller, than with injection of solid magnesium compounds, with much higher surface area and reactivity.
Injection into the flue gases in the combustion zone helps the products to reach all parts of the boiler or furnace.
PREVENTIVE APPLICATION :
MgO deposits on the heat transfer surfaces forming a protective grey coating. The protective grey coating reduces the adhesion of unburnt carbon and ash on heating surface.
MgO neutralizes the sulphuric acid formed to non corrosive magnesium sulphates.
The MgO prevents the formation of low melting point venadates, sulphates, silicates etc by forming the corresponding magnesium derivatives which have a high melting point.
NO2, acts as an oxidizing agent to convert the unburnt carbon to carbon monoxide which later converts into carbon dioxide and elemental nitrogen.
Although the product consists of nitrates which decompose to form NO2, there is no increase in the NOx emissions. This is because the NO2 oxidizes the carbon and releases elemental nitrogen. The release of the elemental nitrogen is in the relatively low temperature zone which cannot further oxidize to Nox.
Ammonium Nitrate decomposes to N2O and H2O. Nitrous Oxide (N2O) is quite different in character to Nitric Oxide and Nitrogen Dioxide. lt is known as "laughing gas" in medicine, because of the "lift" it gives to the patient, being almost the equivalent of air enriched with Oxygen, and is quite harmless in the atmosphere. The question of NOx – pollution therefore, does not arise in the case of Ammonium Nitrate.
PREVENTIVE DOSAGE:
To minimize fouling and corrosion, the dosage recommended is 0.1 to 0.15 litres of Polarchem L2K per tonne of fuel, to be injected intermittently, equivalent to 7 to 10 days in a month, with short injection periods of 30 minutes to 1 hour, at regular intervals.
CURATIVE APPLICATION :
Polarchem L2K is very effective for curing badly fouled heat transfer surfaces, whether carbonaceous deposits or ash deposits.
High dose injection is recommended (0.3 litre per tonne) for periods of 7 to 10 days.
REDUCED CORROSION
Longer equipment life
Reduced maintenance cost
REDUCED EMISSION
Reduced acid smutting : Some times liquid droplets of sulphuric acid with entrapped carbonaceous and ash particles are exhausted through the chimney. Polarchem L2K minimizes the carbonaceous and ash components by generating smaller particle size, and drastically reduces acid smutting
Reduced load on bag filters and electrostatic precipitators (ESP) : Often unburnt carbon with ash particles held on to it leads to emission of large size particulate matter which increases the load on bag filters and reduce the efficiency of the ESP. Use of Polarchem L2K helps to generate less sticky and finer particle size so that the load on bag filters and ESP reduce.
The Most important benefit is that it is applied on-line avoiding a shutdown.
SELECTED USER REFERENCES
Shell, Pernis, Netherlands
Shell, Berre, France
Shell, Hamburg, Germany
Total Normandie, Dunkirk, Provence France Fina, ANTWERP, Belgium BASF, Germay
Total Fina, lmmigham UK
Strasbourg Energy, France (Coal Power Plant)
Buna Halle Germany (Lignite Power)
Uniklinik Freiburg, Germany (Coal Power)
FRAI Butterworth, Malaysia Oil Fired Power Station. Tata Power Company Ltd., Mumbai Chandrapur Super Thermal Power Station
IOC Refineries, Koyali, Panipat, Guwahati ESSAR Oil Ltd., Jamnagar